More Than Realty…We're Family.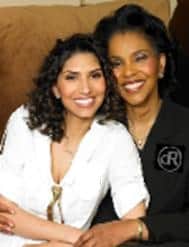 Family Cares. Family goes the Extra Mile. Family is there for you Through the Good and the Bad. Family has your Best Interest at Heart. At DeLeon Sheffield Company, we are more than Realty, we're Family. Experienced. Credentialed. Caring. Family.
At DeLeon Sheffield Company, serving you is our primary focus. We provide personable, confidential, all-inclusive Concierge Realty Relocation and Short-Term Executive Housing services to Professional Athletes, Executives, and White-Collar Professionals. We can foresee your needs based on actual experience: we have walked in your shoes. DeLeon grew up in the family business of Realty, with both parents serving as professional Realtors. DeLeon has also spearheaded multiple relocations as the wife of MLB World Series Champion and future Hall of Famer Gary Sheffield, and has traveled extensively as the youngest artist ever nominated for a Grammy, actor on an Oprah Winfrey series, and guest appearances on major television shows such as Good Morning America®. She KNOWS your needs for expedient, superior, and confidential realty services. Realtor and Short-Sale Specialist Wilbur Gaynor is a 1st Place Top Listing Agent in his former district and creator of helpb4u4close seminars designed to help owners with foreclosure alternatives. The youngest member of our family, Patrick Richardson II, got his start in real estate after diving into the investing world and stays eager and excited to assist in your real estate ventures. This experienced Team executes with precision to go the extra mile on your behalf.
At DeLeon Sheffield Company, we are with you from start to finish: facilitating your housing, transportation, introduction to additional needed professional services (Financial Planners, Attorneys, CPAs, Cleaning Services, local Recreation, schools, and healthcare providers), and walking you through the buying or selling process line by line. We provide you with a highly professional personable Realtor,-your individual Concierge, who is there to service all of your Realty needs, keeping your best interest at heart, just like family.
HIRE A PROFESSIONAL REAL ESTATE AGENT
A qualified, competent real estate agent will help you navigate the myriad of decisions that arise when buying and selling a home. An agent provides value to the homeowner in many ways:
Pays for all marketing and advertising costs.
Adds experience and expertise in all aspects of the sales process including marketing, financing, negotiations and more.
Handles all showings.
Brings a network of known, trusted real estate professionals. If your agent doesn't have the answer, he or she likely knows someone who does.
Always has your interests in mind so you always have someone on your side.
Can handle and advise on all price and contract negotiations.
Provides you with all the possible options and opportunities without holding back.
Gives an unbiased, realistic view of your home and your options. Unlike buyers and sellers, an agent has no emotional attachment to property.
Has the knowledge to help you ask the right questions.
Being a third party, potential buyers are more likely to tell your agent the truth about your home, even if it is unflattering. This objective viewpoint will help you make the necessary changes to get your home sold.
Your time is valuable. A real estate agent allows you to spend your time how you want.